Under the water in front of central station a new bicycle parking opened yesterday.
Nice. Been looking forward to it. There is a time-lapse of the construction.
But I won't use it much I think.
The new bike parking delays your journey to the station considerably in comparison with putting your bike in the old 'fietsflat'. A temporary construction since 2005.
Especially now more space becomes available in the fietsflat because of the new space it will be faster to find a spot in the racks. This will be faster than descending 9 meters to walk across all that parking space in the dungeons with your bicycle in your hand. At least in Utrecht you can drive into the parking! Here you risk getting stuck behind others who will stand still on the ramp because they do not dare to walk the decline with their bicycle in hand or find the incline too much effort.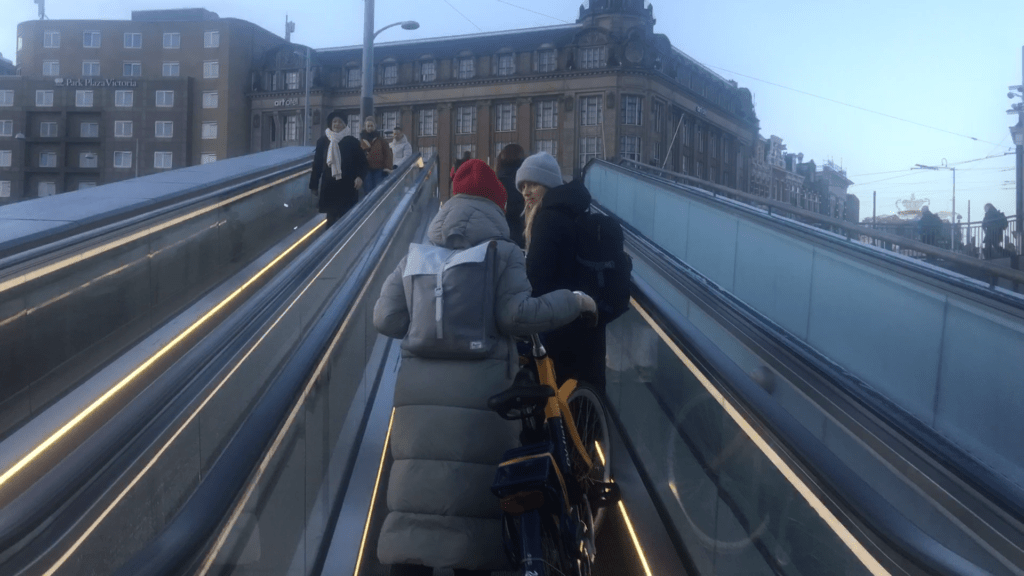 The esthetics of the parking is borrowed from the car world. It fits perfectly for those bicyclists with a fast e-bike who want to protect their new holy cow against contact with other bicyclists. All the time they gained with their e-bike on the streets of Amsterdam they can hand in here. The bicyclists with a traditional bicycle are meanwhile already in their train.
The design of the fietsflat is genious and fits perfectly with the traditional bicycle: compact, practical, sturdy, a little rusty, but reliable. Therefore I propose to make the fietsflat into a local monument. Sign fietsflatmonument.petities.nl therefore.
It was once a temporary construction, but so was the Eiffeltower in Paris for the World's Fiar of 1889. Tourists recognise the beauty of the fietsflat already, from day one. The endless rows of blinking handle bars in the sun are moving and a 'photo moment'. The underground bike park on the other hand looks like a 'parking garage for bicycles'. It is not iconic.